We are heartbroken to say that our beloved, "Suzie" passed peacefully on May 25, 2021 at the age of 80, however her legacy lives on…..
"I have been involved in the dog fancy for over 40 years. I breed and show Golden Retrievers. In 1992 the #1 Golden Retriever bitch in the USA was Am. & Can. Ch. Birks Sage Derby of Ankrist who I bred and co-owned. I currently own 4 Goldens and imported from Scotland this puppy (shown), Dawnryan Blue Symphony. As he crossed the pond on Columbus Day he is known as 'Christopher'.
"SOURCE is my second home. I have been here a long time. Forty years ago (but who is counting?) a close kennel club friend saw an ad in our local paper, and she said 'here's the job for you'. The ad stated: enjoy working with animals a plus! So I'm still here enjoying the daily personal contact with people all over the country, answering questions about SOURCE.
"Most of us at SOURCE seem to stay. I know we stay because we have superior products, and because we have such a tremendous sense of pride knowing our products are helping so many animals. When the letters come from grateful owners, and they do come, it's a red-letter day! Many of the letters are real tearjerkers. They truly inspire us to work harder."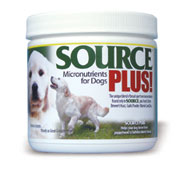 Both a valued member of the SOURCE staff and a SOURCE user, Suzanne's Trowsnest & Birks Golden Retrievers have been given SOURCE micronutrients since 1979. Suzanne has co-owned and co-bred several Goldens with her close friend and mentor Marjorie Trowbridge. Marge has been breeding Golden Retreivers for over 30 years.
"We attribute our success, not only in the show ring, but in the obedience, field, service and the home is the result of quality, not quantity. Over the years we have averaged two litters a year."
With wins with:
Ch. Valhalla Trowsnest Folly UDT, WCX
Trowsnests Kennels foundation bitch
"Folly" was the first Golden Retriever Bitch in the US to earn all these titles. She produced two champion males that were half-brothers: "Whirly" and "Whipper"
Am/Can Ch. Trowsnest Whirlwind, UD, WCX, Can, CD, WC
The sire of:
28 American Champions
30 Working Guide Dogs
2 Hearing Aid Dogs
In his show career "Whirly" took Best of Breed at 3 Specialty Shows, including the Canadian National specialty. In later years he earned Best Veteran at 3 Specialty Shows, including 2 wins at the Golden Retriever Club of America National Specialty. Whirley lived for 16 wonderful years.
Am/Can Ch. Trowsnest Whippersnapper, CDX, WCX
"Whipper" sired 3 American Champions. He is the Grandsire of:
Am/Can Ch. Birks Sage Derby Of Ankrist, SDHF
"Sage" also won the Best Of Opposite Sex at Westminster KC, not once, but TWICE!
The legacy of these wonderful Goldens continues today. The most recent Trowsnest & Birks Champions are:
– Can. Ch. Trowsnest Wind B'Neath My Wings, Am/Can CDX, SH**
– Can. Ch. Trowsnest Birks Road to Mandalay (The Golden pictured on the SOURCE PLUS label)
– Can. Ch. Trowsnest Blenhein Castle, CD
– Can. Ch. Trowsnest One-Ash Burberry
– Can. Ch. Trowsnest Steval Semitone
– Can. Ch. Trowsnest English Garden Can. CD
– Can. Ch. Trowsnest on a Wing and a Prayer CD JII
– Can. Ch. Birks Run for the Roses
– Ch. Birks Shock Wave, CD, WC, VC
"We are proud that Trowsnest & Birks Goldens recognize the significant contribution that SOURCE makes to their outstanding program. In turn, we must pay tribute to their entire management program, daily care, and extraordinary breeding ethics.

Champions beget Champions!"

– Susan Domizi,
President, SOURCE, Inc.