"We control the quality of our micronutrients all the way from the ocean harvests to the final container in your hands"
Initially, Domizi purchased seaweeds produced by others. She quickly realized, however, that she would have to assume production herself in order to achieve the quality control she wanted. The formula and exact species used in SOURCE's blend is closely guarded proprietary information.1
SOURCE's main harvesting grounds for seaweeds used in its products are in cold, northern waters…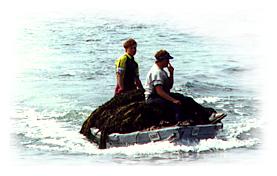 [Says SOURCE founder and President, Susan Domizi],
"We wouldn't use, or permit harvesting methods that would harm or destroy our treasured resource. We're extremely protective of the waterways. We're also in close communication and cooperation with [state] departments of natural resources and [local] environmentalists.
SOURCE, INC. is a founding member of an association whose mission statement is "to protect and promote the sustainable harvest of macroalgae…"
Above – Seaweed harvesters bringing in a load for transport.
"We were impressed by SOURCE's product quality and purity. We liked the fact that the supplement sold for horses is produced to such tight quality standards that the same meal
from the same manufacturing plant can be sold as human supplement as well."
– Michael Plumb's Horse Journal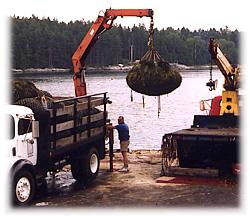 Once harvesting begins, time is of the essence as the seaweeds are carefully harvested, bundled into thousand pound loads and delivered to the SOURCE MAINE plant manager for processing. From sea to seaweed meal takes substantially less than 24 hours. The seaweeds are never summarily dumped in bulk into large trucks for hauling, Domizi notes. Handled that way, they would begin to heat up and compost, making them good for little more than fertilizer. Like making good hay, she points out, post-harvesting handling and timing is everything.
Thousand pound bags are unloaded for strictly monitored processing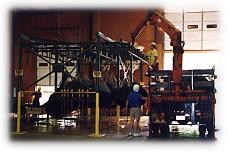 Once at the plant, these bundles the weight of a horse are hung in overhead racks. Strict controls during the dehydration process ensure minimal loss of nutrients. The seaweeds are then ground into a fine meal and packed in bags that resemble huge wheels of green cheese. They are shipped to the North Branford plant where different ingredients are formulated into the unique SOURCE blend and packaged for distribution.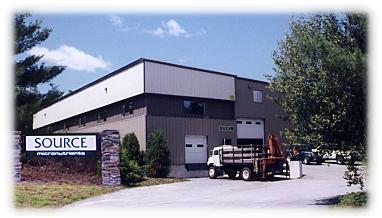 All the ingredients in SOURCE are subjected to extensive independent laboratory testing to assure their exceptional quality. Every container can be traced to the batch it came from, and every seaweed ingredient in every batch can be traced back through processing to its harvest.
"I look forward to the day when we prevent nutritional problems before they affect an animal's well being."
– Susan Domizi, president of SOURCE, INC.
While SOURCE is marketed strictly as a nutritional supplement and makes no medical claims, Domizi believes that its positive effects are to due replacement of micronutrients no longer available in our food supplies. Every state has now reported trace mineral deficiencies in its soils, she notes. Soils lacking in needed nutrients produce foods lacking in them. Heat processing, poor harvesting, and improper storage can further decrease nutrient levels…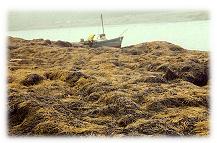 …Trace elements are held in suspension in the ocean, Domizi continues. As seaweeds filter these nutritious waters, they store the trace elements as bioactive compounds in their tissues. Domizi feels that the best way we could improve our food supply would be to fertilize soils with seaweed. That is simply too expensive, she says, so the alternative is using a supplement that brings these "lost" trace minerals back into the diet.
"We're always improving [SOURCE] as we learn how to improve harvesting and processing, and learn more about the analytical profiles of various macroalgae. We'll never stop until it's perfect."
– Susan Domizi
Related Reading: Often imitated never duplicated-why?
---
Excerpts this page reprinted from:
1 "Horses Get a Gift From The Sea" by Bonnie Kreitler as seen in Horses of Connecticut
2 "Harvesting Nutrients From Under The Sea"