Marine plants, unlike plants grown on our agricultural soils, contain the broadest spectrum of micronutrients of any plants on earth in a highly concentrated form.
What are Micronutrients?
"Micronutrients" include trace elements, micro-elements, vitamins, and as yet undefined substances present in minute amounts, but essential for normal growth and development.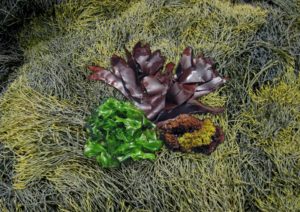 Plants have been used for nutritional purposes throughout the world for centuries, but with inconsistent results. During the 1960's, we were intrigued by the occasional reported benefits of feeding plants. Could we harness the "success factors" and produce a product that would consistently earn enthusiastic customer satisfaction?
It all starts here…SOURCE, a totally naturally derived marine plants product, was finally introduced in 1975. Since that time, the overwhelming response of horses to SOURCE has proven to be dramatic.
SOURCE, INC. has devoted years of research and laboratory analyses developing its own unique blend of species. Harvests are carefully scheduled in various parts of the world for specifically selected points in the growth cycle of each species to obtain optimal nutritional benefit. Innovative specialized processing techniques and extraordinary quality control ensure the maximum potential effectiveness of the naturally occurring micronutrients. Every component for the final blend undergoes extensive laboratory analyses which far exceed any labeling, state or FDA requirements.
SOURCE micronutrients have made countless horse and dog owners believers. Sometimes it seems that SOURCE has been an animal's "last chance" – and owners tell us that it was SOURCE made the difference.
Years ago, when SOURCE president and founder, Susan Domizi, was at a crossroads- feeling rather overwhelmed with her growing SOURCE company – it was the encouragement of SOURCE users that made her persevere and continue to develop and market the products, that since 1975, have garnered such faithful users with testimonials of its success.
Although physical problems resulting from nutritional deficiencies do not develop overnight and it takes time to see the benefits of feeding SOURCE, we are so confident in our products that a no – questions – asked, money-back guarantee is offered to any SOURCE user – with NO TIME LIMIT.
Click here for more of the story on SOURCE; Where do micronutrients come from?; Often imitated never duplicated-why?